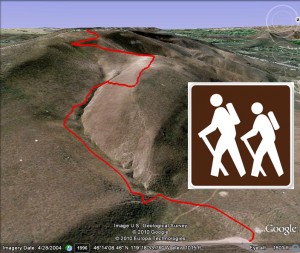 ---
One-way mileage: 1.2 miles
Difficulty: Moderate
Elevation: Start 750 feet, Summit: 1543 feet, Total Ascent 836 feet


---


View Trailhead Park Map Use in a larger map

---

Foggy Morning on Badger Mountain blog postEarly Morning/Late Night on Badger blog postSoggy Morning on Badger Mountain – But Green! blog postSunrise on Badger Mountain Loop blog post


---

Both the Badger Mountain Canyon (I like to call it the Family Trail) and Sagebrush trails start at Trailhead Park.  Trailhead Park is at 525 Queensgate Drive in Richland.  From I-182, take the Queensgate exit heading south to the light at Keene Road.  Turn west on Keene Road to the signal light at Shockley Road near the Bethel Church.  Turn south and follow the road up the hill.  It will veer left and turn into Queensgate, follow the road up the hill past the Westcliffe pillars to the park at the top of the road.  There is a parking area at the corner of Queensgate and White Bluffs or you can park along the curb near the restrooms at the park.  This can get a little congested in the summer when trail use is heavy.

---

This is the original official trail on Badger Mountain that was mapped out, improved and maintained by the Friends of Badger organization. This is probably the easiest way to get to the top of Badger Mountain.

There is a nice resting point at the base of the draw with a bench.

The hike progresses up the west side of the draw to another ridge and a great vista of Richland and West Richland. As you head west on this ridge, you'll pass the marker showing the level of "Lake Lewis" which covered this area after Lake Missoula burst and flooded Eastern Washington and created the Channeled Scablands of the Columbia Basin. Please make sure you stay left on the trail as a renegade route has been gouged on the hillside. Signs urge people to stay off the steep renegade trail.

Follow the regular trail up the hillside, a few gradually inclined switchbacks and you're on the top!

One nice feature of this trail is you can easily connect to the new "Sagebrush Trail" for a nice loop back to Trailhead Park.
---
Click the video below to view a panorama from the top of Badger Mountain
---