Snakes are out!
See more on this blog post.
---
Badger Mountain Trail Reopened
The Dallas Road trailhead received a facelift
Expansion of the Skyline/Langdon trailhead parking area and access road is done
Work crews will also chip sealed the road from Dallas Road to the parking area which will be a big help in preventing the washboards which develop with the heavy traffic.
Try out the new hiking sticks at Badger Mountain's Trailhead Park!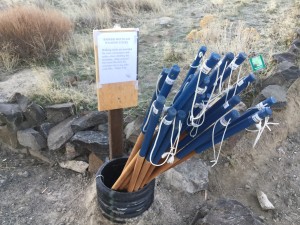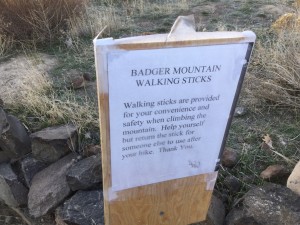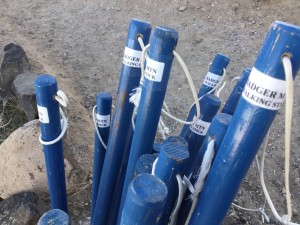 I'm not sure who is behind the "Badger Mountain Walking Stick" project but it looks like a great idea to me.  If you don't have your own fancy carbon fiber poles or a stick from your favorite hiking adventure, this is a great option.  Nothing too fancy but there is a catch; these are for
borrowing only
.  Return them to the bin when you're done.
---
More Parking! Yeah!
---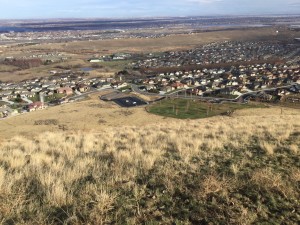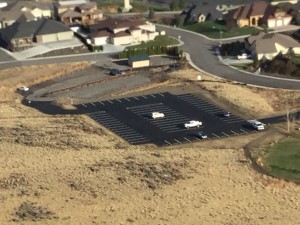 There are nearly 70 new parking spots at Trailhead Park.  The beautifully paved parking area is just north of the park and just a few steps from the start of the Canyon, Sagebrush, and Badger Flats trails.  This is a great new project as it will help maintain our access to Badger Mountain.  Frequently, cars park along the residential streets and clog up the area for local residents.  People even park along Queensgate on the east side of the street where there are no parking signs.  Please take advantage of the new parking area to help keep the peace in the neighborhood around the park.
---
What about hiking all 40+ trails from the Hike Tri-Cities Web site?
  These two friends did it and
share their amazing motivational story here
.  It is a great story of courage and challenges.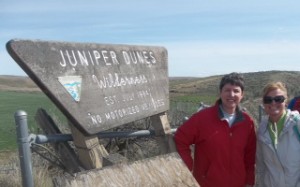 ---
12 Trail Manners Tips You Should Share with Everyone, Hiking Etiquette!
---
New Badger Mountain Hike!
Thanks to the Friends of Badger Mountain and many volunteers who have created the new Orchard View Trail (just for proper information, this trail is now officially named the Langdon Trail in honor of trailmaster Jim Langdon who has volunteered hundreds of hours building and maintaining trails on Badger Mountain) on the south side of Badger Mountain.  Click on this link for an episode of the Hike Healthy Podcast which I recorded while hiking on this wonderful new trail!  Click here for the Hike Tri-Cities page with details, directions and a map for the new Orchard View Trail!  This is so exciting to have another trail on Badger Mountain.  It was slightly delayed because the summer heat made trail building difficult with the powdery soil.  Now the trail is in great shape with gravel in most places.  The trail is not currently accessible as a stand-alone trail.  You access it from the Skyline Trail off of Dallas Road or you can reach it off the Sagebrush Trail.  I think this is a good time to remind you about the Friends of Badger Mountain who are working to raise some funds to extend hiking trails onto Candy Mountain. You can click this link to find out more about the fundraising effort and donate some money to help the cause.
---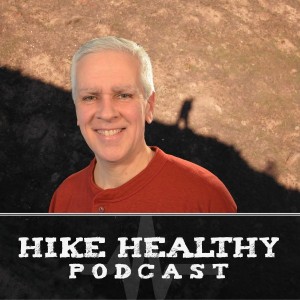 The Hike Healthy Podcast, Helping You Take Control of Your Lifestyle!
The Hike Healthy Podcast has now been launched!  It has been years in the making.  Hiketricities.com has been a labor of love for years.  Now, I hope to help people around the world take steps to improve their health and be more active!  The Hike Healthy Podcast is The podcast dedicated to motivating you to improve your health in a natural way.  The Hike Healthy Podcast covers different health topics including physical, spiritual, mental, social, emotional and more.  No matter what your level of fitness; the Hike Healthy Podcast can help you be more active as you enjoy the beauty that surrounds us!
The podcast features tips, stories, and information to inspire, educate and motivate to help you escape the average and pursue the unusual; an active lifestyle with better health.  I hope you'll check out the Hike Healthy Podcast and share it with those you care about.
---
What is a Podcast?  A great way to enrich your life!  Watch this short video tutorial to learn more.
---
Mission of Hike TriCities.com
---
1. Encourage people to get off the couch and get outdoors.
2. Help people make and keep commitments to improve their level of physical activity.
3. Increase use of our local resources while creating ownership and pride which will lead to responsible outdoor recreation, preserving our beautiful surroundings.
Podcast: Play in new window
| Download