Bundle up and hit the local trails!  Don't let the snow keep you trapped on the couch inside.  You should dress warmly and wear layers because you'll probably work up some body heat if you're going to climb Badger Mountain, Red Mountain, or Candy Mountain.  Then you'll cool down again on the way down.  Also, make sure you have some kind of sturdy shoes or boots.  If there is snow or ice, use some kind of traction device like those pictured below.  Then, pick one of these great hikes and remember that you can take control of your physical activity level.
---
New Candy Mountain Trail Now Open!

A wonderful new trail up the slopes of
Candy Mountain
is now open!  While the trail was completed a few months ago, Benton County had to build a parking lot for hikers so the local residents wouldn't have blocked driveways and traffic snarls on their small country roads.  It's easy to find the new trailhead.  Just follow this link to the
Candy Mountain Summit Trail
hike and you'll find all kinds of good information.  This is a great trail which, I suspect, will take a lot of pressure off the busy trails on Badger Mountain like the
Canyon Trail
,
Sagebrush Trail,
Skyline Trail, and
Langdon Trail.
---
What about hiking all 40+ trails from the Hike Tri-Cities Web site?
  These two friends did it and
share their amazing motivational story here
.  It is a great story of courage and challenges.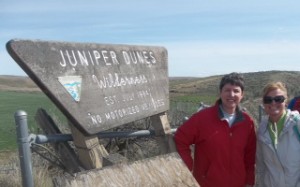 ---
12 Trail Manners Tips You Should Share with Everyone, Hiking Etiquette!
---
Mission of Hike TriCities.com
---
1. Encourage people to get off the couch and get outdoors.
2. Help people make and keep commitments to improve their level of physical activity.
3. Increase use of our local resources while creating ownership and pride which will lead to responsible outdoor recreation, preserving our beautiful surroundings.
Podcast: Play in new window
| Download