The Snow is gone! Hit the Trails!

It's hard to believe the contrast between the first part of February and the first part of March. The pictures below show the south side of Badger Mountain on the
Skyline Trail.
There was a huge drift there for a couple months! This is the longest winter I remember in this area in my 40 plus years (okay, okay, 50 plus!). It is still cool and he have the usual wind to deal with but, if you have a good, windproof shell, a hat, gloves, scarf for your face and even some sunglasses to protect your eyes, it is go time! I saw several people out hiking today, some were running! One guy had his shirt off (see video below). I think some of the people I saw are in training for the
Badger Mountain Challenge
, coming up later this month.
---
Inspiration with 50K Dan!
A while back, I met Dan in the parking lot at a local auto parts store.
He recognized me from hiketricities.com and wanted to talk about his experience at the 50k Badger Mountain Challenge. His story was not pleasant as he felt he had been forgotten, left behind and unsupported (except by a couple of people). I encouraged Dan to write his story so I could share it with others. I share it not to tear anyone down or cast blame but to motivate people to do hard things……click here to read more.
---
What about hiking all 40+ trails from the Hike Tri-Cities Web site?
These two friends did it and
share their amazing motivational story here
. It is a great story of courage and challenges.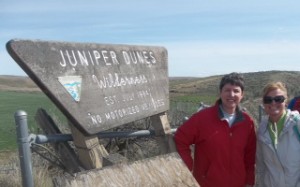 ---
12 Trail Manners Tips You Should Share with Everyone, Hiking Etiquette!
---
Mission of Hike TriCities.com
---
1. Encourage people to get off the couch and get outdoors.
2. Help people make and keep commitments to improve their level of physical activity.
3. Increase use of our local resources while creating ownership and pride which will lead to responsible outdoor recreation, preserving our beautiful surroundings.
Podcast: Play in new window
| Download