Spring Wildflowers are Blooming, Don't Miss Out!

Well, just as I thought, the wet winter (and continued rain showers we've had this spring), are making for beautiful colors on the hills and hiking trails around the Columbia Basin.
The wildflower season is off to a strong start with the Carey's Balsamroot coming on strong!  on my hike the other day, I saw yellowbells and bunches of Purse's milk vetch covering the ground
(you can click any of these pictures and enlarge them).  Probably most amazing is the lush, green carpet that is covering all the local hills and hiking trails!
The weather is perfect for a wildflower hike in the Columbia Basin.  Just take a jacket along and wear some layers if its a little cold.  I haven't seen any snakes yet so there aren't many excuses for not getting out and enjoying the beauty that surrounds us!  Enjoy!
Wildflower Identification
If you need some help identifying a wildflower you see out on your hike, check the WILDFLOWER page I put together and you may find some helpful information.  If you have any suggestions or corrections, don't hesitate to comment below!
---
Inspiration with 50K Dan!
A while back, I met Dan in the parking lot at a local auto parts store.
He recognized me from hiketricities.com and wanted to talk about his experience at the 50k Badger Mountain Challenge.  His story was not pleasant as he felt he had been forgotten, left behind and unsupported (except by a couple of people).  I encouraged Dan to write his story so I could share it with others.  I share it not to tear anyone down or cast blame but to motivate people to do hard things……click here to read more.
---
What about hiking all 40+ trails from the Hike Tri-Cities Web site?
  These two friends did it and
share their amazing motivational story here
.  It is a great story of courage and challenges.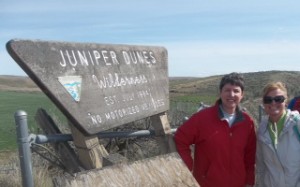 ---
12 Trail Manners Tips You Should Share with Everyone, Hiking Etiquette!
---
Mission of Hike TriCities.com
---
1. Encourage people to get off the couch and get outdoors.
2. Help people make and keep commitments to improve their level of physical activity.
3. Increase use of our local resources while creating ownership and pride which will lead to responsible outdoor recreation, preserving our beautiful surroundings.
Podcast: Play in new window
| Download