What about hiking all 40+ trails from the Hike Tri-Cities Web site?  These two friends did it and share their amazing motivational story here.  It is a great story of courage and challenges.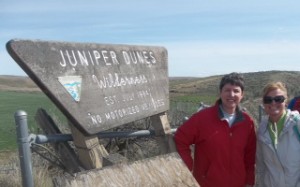 ---
 Thank you City of Kennewick!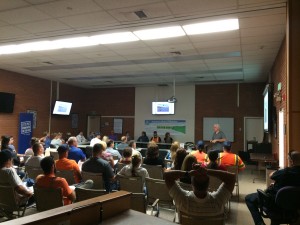 I recently had the opportunity to visit with dozens of City of Kennewick employees as part of their wellness program to encourage more activity and better health.  Well, that is right up my alley so I presented information on hiking safety.  It was a great opportunity and I appreciate all the attendees, their interest and participation!
---
12 Trail Manners Tips You Should Share with Everyone, Hiking Etiquette!
---
 New landmark visible from the top of Badger Mountain
---
Richland Man Talks about his 26-Hundred Mile Hike!
Aaron Ellig completed a "through-hike" of the Pacific Crest Trail.  It's an accomplishment few people can claim.  Listen to
this episode
of the
Hike Healthy Podcast
as Aaron shares his experience and wisdom from the
Mexico to Canada epic journey
!
---
New Badger Mountain Hike!
Thanks to the Friends of Badger Mountain and many volunteers who have created the new Orchard View Trail on the south side of Badger Mountain.  Click on this link for an episode of the Hike Healthy Podcast which I recorded while hiking on this wonderful new trail!  Click here for the Hike Tri-Cities page with details, directions and a map for the new Orchard View Trail!  This is so exciting to have another trail on Badger Mountain.  It was slightly delayed because the summer heat made trail building difficult with the powdery soil.  Now the trail is in great shape with gravel in most places.  The trail is not currently accessible as a stand-alone trail.  You access it from the Skyline Trail off of Dallas Road or you can reach it off the Sagebrush Trail.  I think this is a good time to remind you about the Friends of Badger Mountain who are working to raise some funds to extend hiking trails onto Candy Mountain. You can click this link to find out more about the fundraising effort and donate some money to help the cause.
---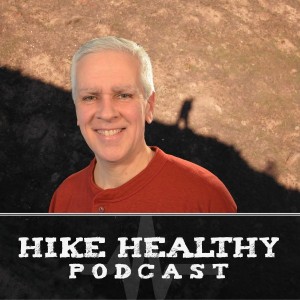 The Hike Healthy Podcast, Helping You Take Control of Your Lifestyle!
The Hike Healthy Podcast has now been launched!  It has been years in the making.  Hiketricities.com has been a labor of love for years.  Now, I hope to help people around the world take steps to improve their health and be more active!  The Hike Healthy Podcast is The podcast dedicated to motivating you to improve your health in a natural way.  The Hike Healthy Podcast covers different health topics including physical, spiritual, mental, social, emotional and more.  No matter what your level of fitness; the Hike Healthy Podcast can help you be more active as you enjoy the beauty that surrounds us!
The podcast features tips, stories, and information to inspire, educate and motivate to help you escape the average and pursue the unusual; an active lifestyle with better health.  I hope you'll check out the Hike Healthy Podcast and share it with those you care about.
---
What is a Podcast?  A great way to enrich your life!  Watch this short video tutorial to learn more.
---
Don't Worry, Hike Tri-Cities isn't going away!
Whether its the BRAND NEW Lakes Park hike,  Canyon, Sagebrush or Skyline trail on Badger Mountain, Red Mountain , Rattlesnake Preserve, or Candy Mountain, any one of these will give you a chance to stretch your legs and be more active while enjoying the beauty that surrounds us!  Hiketricities.com hopes to motivate and encourage you to take control of your lifestyle and enjoy the benefits of better health!  No matter what your level of fitness, you can improve with more activity.  Whether you're a marathon runner, a mall walker, or a couch potato, hiking is a great way to maintain, regain or establish better activity levels.
Several Surprises are in the Works! Over a quarter million visitors have come to hiketricities.com!  We are so excited about this!  We plan on continuing to offer you great content and information.  We are also planning on a publication which will allow you to take the information you love most about this web site, with you!  Also, we are working on extending the HikeHealthy message to a much larger audience.  Please stay tuned and share this web site with your friends by liking us on Facebook or other social media.
---
Check Out the Dozens of Hikes Listed On the HIKES link on the top of  this page
We now have over 40 hikes listed in and around the Tri-Cities for you to enjoy, complete with pictures, videos, GPS tracings, Maps and Directions to the trailheads and trail suitability icons. Every hike also has descriptions with mileage, difficulty, elevation change and more.
Mission of Hike TriCities.com
---
1. Encourage people to get off the couch and get outdoors.
2. Help people make and keep commitments to improve their level of physical activity.
3. Increase use of our local resources while creating ownership and pride which will lead to responsible outdoor recreation, preserving our beautiful surroundings.
Podcast: Play in new window
| Download