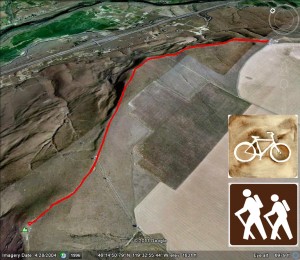 ---
Round Trip mileage: 4.8 miles
Difficulty: Moderate
Elevation: Start 1431 feet, Summit: 2080 feet, Total Ascent 1337 feet.
Warning: Rattlesnakes have been spotted on this trail during warm, summer months.
---

View Chandler Butte Trailhead in a larger map
---
Click Here for Chandler Butte Blog Post, Hiking Above Benton City
Attention:  This hike is on private property and permission must be obtained to hike here.  Please respect private property rights.  Thank you.
---
Directions:  From Interstate 82, take the Benton City Exit (East of Prosser/West of the Tri-Cities) .  Go south on the road at the bottom of the off-ramp (Webber Canyon Road).  Go one-half mile south, turn right onto McBee Grade Road.  Go approximately 2.4 miles on the gravel road to the top of the grade where you'll find an open parking area on the right.
---
Chandler Butte is a great hike that is also well suited for mountain biking.
---
---
From the parking area, you will head west up a short hill where there is a lone communications tower.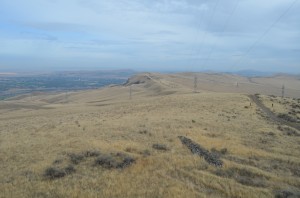 This hike follows a ridge along the Horse Heaven Hills.  The view to the north all along this hike is of Benton City,
Rattlesnake Mountain, the Yakima River and the lower Yakima Valley.
As you look to the south, you'll see sprawling wheat fields stretching for miles and farmhouses with very long driveways.
Hiking along the ridge, you'll walk on a gravel trail that is also an access road for the communications towers.
You'll also see several scattered basalt boulders along with gravel that has fallen off the hill and made large basalt gravel fields on the north side of the ridge.
The last half-mile of the hike is the most difficult with a fairly good incline to the top of Chandler Butte.  At the top are several communications towers and small outbuildings.  There is also a great perspective of the channeled scablandgeological features of the lower Yakima Valley.
You can just imagine the deluge of water, ice and rock that scoured out this area years ago.
You can look down the ridge to the west toward Prosser, the Yakima Valley and Mount Adams.  To the east, there is Benton City, Badger Canyon and the Hanford Nuclear Reservation with the Columbia Generating Station nuclear power plant.
I like this hike because it is somewhat remote with very little, if any traffic.  Watch out for snakes in the warm season.