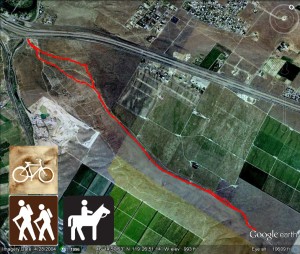 ---
Round Trip mileage: 4.5 miles
Difficulty: Moderate
Elevation: Start 478 feet, Summit: 1324 feet
Warning: Rattlesnakes have been spotted on this trail during warm, summer months.
---

View Goose Hill Trailhead in a larger map
---
Click here for an account of one hike on Goose Hill
---
Directions to Trailhead:  Take Interstate 82 to the Benton City Exit #96.  At the bottom of the off-ramp, go south (toward the Horse Heaven Hills).  Within a hundred feet, take a left on Jacobs Road.  Go .2 miles to Field Road and park in the open dirt area on the corner of Jacobs and Field roads.
---
This is a nice hike and you can even be exposed to some of the amazing geology that helped form the area's landscape.  You will start hiking from the parking east through the sagebrush on various off-road vehicle trails (beware this area is popular with ATV riders so watch for vehicles on trails).  Head up the jeep trail along the ridge of Goose Hill and you'll quickly come to some scattered boulders along the trail.
These are called erratics.  Geologists say they are evidence of massive floods that scoured the Columbia Basin up until about 15,000 years ago.  You can read about this in depth in Bruce Bjornstad's book On the Trail of the Ice Age Floods (Click here for a review of this book).  It is a fascinating account of the geologic formation of our landscape and the resulting Channeled Scablands.  These erratics are not a native type of rock.  The Ice Age Floods brought the huge rocks here lodged in huge ice flows from as far away as British Columbia!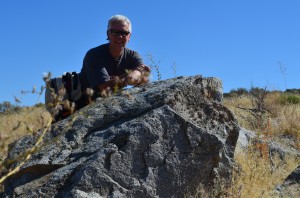 The erratics are scattered across Goose Hill.  These are granodiorite but there are others made of quartzite.
As you gain elevation, you'll hike through a zone scattered with rocks that are native to our area, basalt.
You also get a great view of the "Old" path of the Yakima River.  Geologists theorize and it's explained in Bjornstad's book that the Yakima used to flow east down Badger Canyon but was interrupted by debris during the great floods and it now takes a sharp turn on its present path.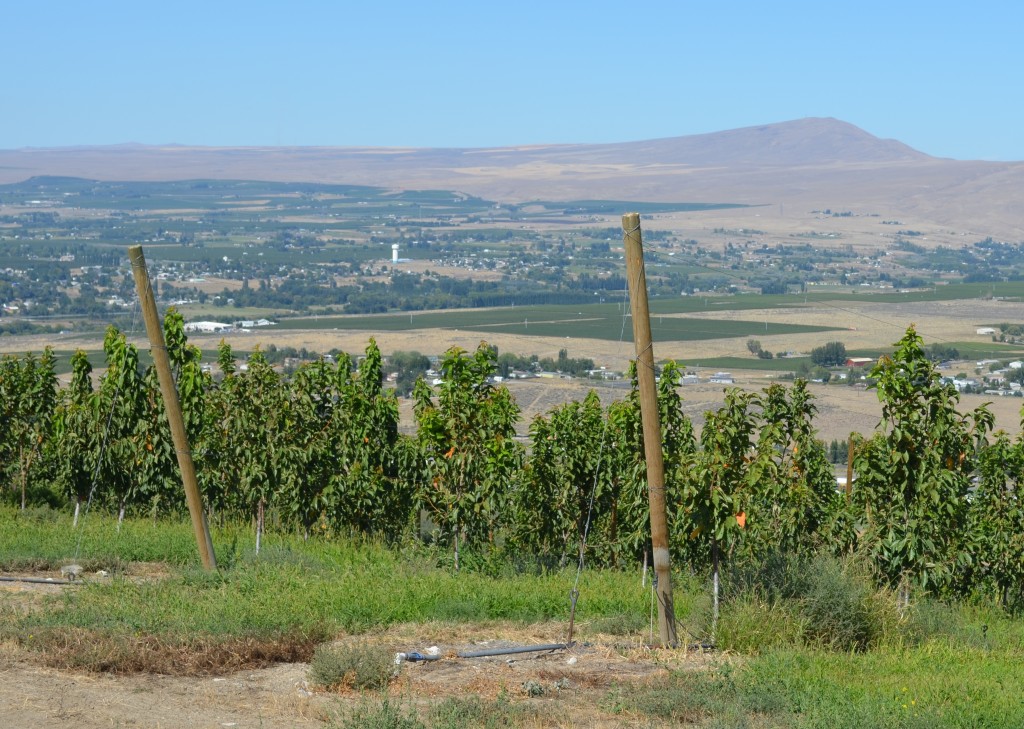 As you gain in elevation, you'll have great views of the Columbia Basin.  You'll see Rattlesnake, Red, Candy and Badger Mountains.  On clear days, you'll see the tip of Mount Adams.  This trail continues up the ridge and levels off skirting along the top of an orchard that covers the north side of Goose Hill.  The trail ends at a vineyard road where you can get some great pictures of the view and then re-trace your steps back.
Keep an eye out for snakes on this hike in the warm season.  You may also see other wildlife and critters.