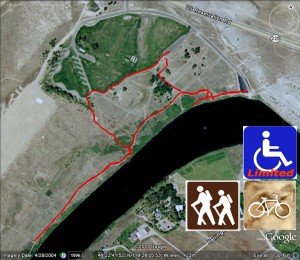 ---
Mileage: variable, from a quarter mile to 3 miles or more
Difficulty: Easy
Elevation: No noticeable elevation gain.  Park is at about 375 feet above sea level.
Warning:  This hike and park are along the Yakima River which can have high, fast-moving water that can be dangerous.  Watch young children closely


---


View Horn Rapids County Park Trailhead in a larger map

---

This county park is a relatively unknown gem in our area that has some great hiking trails that make it a nice listing here on Hike Tri-Cities.com.
To get to the trailhead, head towards Vantage on Highway 240 outside of Richland. Go about 8.3 miles and turn left on Highway 225. Go about .75 miles to the Horn Rapids County Park turnoff, take an immediate left to the parking lot. You can also get there by traveling north from I-82 on Highway 225 (the main road through Benton City). Go north about 10.6 miles from I-82 and turn right into the park.

---

The Tapteal Greenway Association has worked with the county to make this a very nice hiking area. The park also features camping, a huge open grassy field, a boat launch and restrooms.
For hiking, you can park in the main parking lot and get started at the kiosk.

At the kiosk, you'll find some nice educational information about the wildlife and plant life of the area along with some interesting history.  From the kiosk, you can set out on the paved trails through the wooded area surrounding the park.  You can also take dirt trails which will travel along the river.  There are frequent side trails to the river's edge.  This is a very peaceful, quiet setting along the river.  You can stop and close your eyes and listen for many different bird calls.  The trail is easy and flat and you can go a few hundred feet or weave across the grass and sagebrush areas to put in several miles.