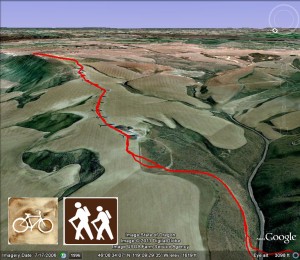 ---
One-way mileage: 2.1 miles
Difficulty: Moderate
Elevation: Start 1300 feet, Summit: 2216 feet
Warning: Rattlesnakes have been spotted on this trail during warm, summer months.
Please make sure you stay on Jump-Off  Joe Road for this hike as the wind turbines are on private property.


---
---

View Jump Off Joe Trailhead in a larger map
---
To get to the trailhead for this hike take the Finley Intertie highway (highway 397) off Interstate 82.  Head east to Owens Road and turn south.  Go about 3.8 miles on the gravel road to the Jump Off Joe Road turn-off.  You can park at the junction and hike up Jump Off Joe Road.
---
I like this hike because of the great view it provides of the Tri-Cities.  Although it is on a gravel road, there is very little vehicle traffic, if any and the view at the top is worth the hike.
Add to that the close-up view of the wind turbines from the Nine-Canyon Wind Farm and it is very enjoyable for most any age group.
The trail (road) is very gradual as you climb to the top with an elevation increase of about 1000 feet.
At the top, you'll see the little communications tower "town" that is perched on what looks like a cliff with the steep north side of the hill.  Jump Off Joe is otherwise surrounded by wheat fields and wind turbines.
The view from the top features vistas of Oregon and Washington,
the Blue Mountains, Badger, Red, Candy and Rattlesnake Mountains and even Mt. Adams and Mt. Rainier on a clear day.
This is really an enjoyable hike.