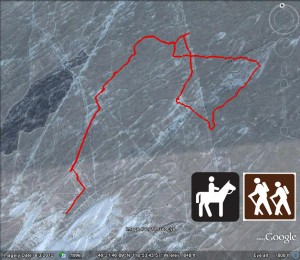 ---
Mileage: Variable
Difficulty: Moderate to difficult
Elevation: Depends on route, several rolling hills and hiking on sand dunes can be difficult
Warning: Rattlesnakes have been spotted on this trail during warm, summer months.
Also:  This is a primitive wilderness area, camping is allowed but there is no water source or restrooms.  Bring a good supply of water, a good first-aid kit (and know how to use it) and a compass will also come in handy on this route.
Access to the Juniper area is limited because of land disputes, enter at your own caution.  Also, roads become washed out and sandy and may be impassible for ordinary cars.

---

View Juniper Dunes Wilderness Area in a larger map
View Juniper Dunes in a larger map
---
Click here for the blog post We Got Unstuck at Juniper!
---
 The trailhead to Juniper Dunes Wilderness Area is at least a half-hour from town (more if you have to hike in because of road conditions).  Start from the Tri-Cities and head east on Highway 12 from Pasco.  Take the Pasco-Kahlotus highway exit and head north.  Go about 5.75 miles and you'll see a large, yellow mailbox at a spraying business on the right.  Turn left and you are on Peterson Road.  Go 4.25 miles on this private road, you will pass several farm fields and come to an open, brushy area.  The road becomes more primitive and you can go straight but you want to turn right.  On the right hand side is a parking area.  If you are not in a four-wheel drive vehicle, you will probably want to park here and walk in to the wilderness area.  If you have a 4WD or are adventurous or, if it has been rainy or early in the year, the road may be okay but make sure you proceed with caution and
have some shovels or other equipment to help if you get stuck
.  The road is mostly sand that gets dry and soft in the summer heat. <hr> Whether you decide to drive or hike in, continue heading east on this road.  You may encounter some off-road enthusiasts with motorcycles, ATV's, Jeeps or other vehicles suited for the terrain.  There is plenty of sand riding for them but motorized vehicles are strictly forbidden in the wilderness area.  Before you get to the wilderness area, you may come across this feeding trough with tilted, corrugated steel which feeds into a basin for wildlife. 
As you continue east you can follow trails or go cross-country.  Hiking in the sand is a real workout so be prepared for exercise.  
Following your compass east, you will come to a well-marked, barbed-wire fence which is the boundary for the Juniper Wilderness Area.  If you follow the trails, you may come across the official entrance which has a sign-in book.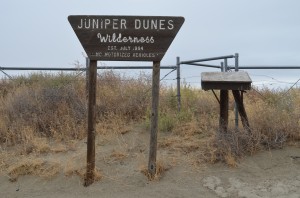 The first bunch of juniper trees you'll likely see is perched along a hillside with a trail going up through the middle.
As you travel through the bunch grass, there are no official trails but, rest assured that you can go less than 5 miles in any direction to the edge of the wilderness area.  There are several bunches of juniper trees scattered across the wilderness area.
These junipers have the distinction of being the furthest northerly collection of juniper trees.  This is classified as a Wilderness Area which is an IUCN (International Union for Conservation of Nature) 1b category.  This is the highest category of protected area recognized by the World Commission of Protected Areas. 
You can get a good feel for the terrain in this HD video. The Wilderness area is over seven thousand acres.  Not only does it feature junipers,
You will also see numerous seasonal wildflowers, old-growth sagebrush and plenty of wildlife including: coyote, badger, mule deer, bobcat, skunk, weasel, porcupine, kangaroo rat and more.
The terrain has several scattered sand dunes that are ever being shaped by the blowing winds.