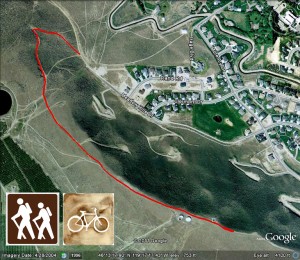 ---
Difficulty: Moderate
Elevation: Start 655 feet, Summit: 1183 feet, Total Ascent 572 feet.
Warning: Rattlesnakes have been spotted on this trail during warm, summer months.


---
---
View
Little Badger Mountain Trailhead
in a larger map
---
Blog Posts about Little Badger:
Butterflies Galore on Little Badger
Trailhead directions:  The trailhead is in the Crested Hills housing area at the west end of Gage Boulevard in Richland. 
From Highway 240, take the Columbia Park Trail exit.  Go west to Leslie and turn left go to Gage Boulevard and turn right (west).  From I-182, take the Queensgate exit.  Go east to Keene Road, turn left (east) on Keene to Gage Boulevard then turn right.  From I-82, take the Badger Canyon exit, go north to the new roundabout, turn left (northwesterly) on Leslie, go to Gage Boulevard and turn left (west).
Once on Gage Boulevard, continue west past the LDS temple, up the hill to the Crested Hills pillars, turn left onto Morency Drive.  Go a couple of blocks and turn right on Clermont.  Turn right on Meadow Hills to the end of the road and you can park along the side of the dirt road.
---
Little Badger Mountain is a nice, short hike that provides a beautiful view of the Tri-Cities without all the traffic of Badger Mountain. Two issues I see with this hike is there really isn't an established trail system and development is slowly working its way up the hill and access will probably become more difficult in the future.
This is a moderately difficult hike, mainly because of the incline. The path I took was up a sandy, washed out road from the trailhead. There is a steeper road from the trailhead as an alternate path.
This hike boasts beautiful wildflowers in the spring. There is also a good view of the Rancho Reata neighborhood and Badger Mountain to the west.
As you get to the highest point, you'll pass two large water tanks. You'll also notice a steep drop-off on the north side, along the trail. It took me about 18 minutes at a moderate pace to reach the top.
You can continue on across the "saddle" and to a lower summit to the east if you desire but this area is being developed and much of the land is under construction with heavy equipment.
While housing works its way up this hill, there is still plenty of beauty to experience. I encourage you to enjoy it while it is still available.  Enjoy the following video, a panoramic view from the top of Little Badger.
---
Little Badger Mountain Panorama from Paul Shoemaker on Vimeo.