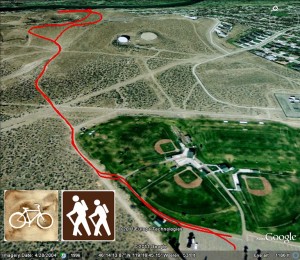 ---
■One-way mileage: 0.6 miles
■Difficulty: Moderate
■Elevation: Start 470 feet, Summit: 762 feet
■Warning: Rattlesnakes have been spotted on this trail during warm, summer months.
---

View Badger Community Park Trailhead in a larger map
---
The Badger Community Park trailhead is at the "Field of Dreams".  You can get there from I-182 by taking the Queensgate Exit 3 and heading south to Keene Road.  Turn east (left) at the light and go about 1.4 miles to Badger Mountain Community Park. This is a great park with playground equipment, soccer fields, baseball fields and more.  Little league baseball teams play here and thus the name "Field of Dreams".
---
Start your hike on a paved trail that goes around the west side of the baseball fields.  About a hundred yards up the trail, go off the side to the dirt road/trail along side.  Follow this up the hill.  As you work your way north, you'll gain elevation walking through sagebrush and rugged rock.  Towards the top, you'll run into another paved path, you can follow that or stay on the dirt trail.  This will lead you to a canopied viewpoint with benches to sit and relax and take in the view.  Although the hilltop is only 762 feet high, that's still over 400 feet higher than most of the Tri-Cities so you get a great view.
You can take in the view of the surrounding mountains,  look out on the Tri-Cities and West Richland, see the wandering Yakima and Columbia Rivers, view the Blue Mountains, and look south to the LDS Columbia River Temple.
<  Little Badger is a nice hike with fragrant sagebrush and frequent glimpses of jack rabbits bounding about.  The pictures below are of some of the rocks at the top of the hill with the "Mighty Columba River" winding in the north in the background.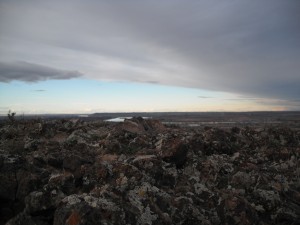 ---
360 Degree Panorama Video Clip