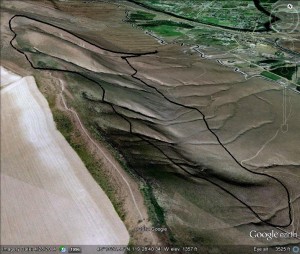 ---
Round-trip mileage: 4 miles
Difficulty: Moderate
Elevation: Start 762 feet, Summit: 1942 feet
Warning: Rattlesnakes have been spotted on this trail during warm, summer months.

---
---

View McBee Hill Hiking Area in a larger map
---
Directions: From Interstate 82, take the Benton City Exit (East of Prosser/West of the Tri-Cities) . Go south on the road at the bottom of the off-ramp (Webber Canyon Road). Go one-half mile south, turn right onto McBee Grade Road. Go approximately 1/4 mile on the gravel road to parking area and trailhead with break in the fence on the left and a notice board at the trailhead.
---
Click here for McBee Hill, Ouch! blog posting
---
This is a more gradual climb up to the top of McBee Hill just outside of Benton City/Kiona. You park at the pull-out and hit the trail. The trail quickly climbs. Before you head up the face, you can take a side trail to the left (east) which will head to a zig-zag trail up the face. Don't go up yet. Set out toward the east, cross-country and you'll come across miscellaneous trails that run along the base of the hills. Then, you'll come to a trail that looks like an old road but winds up the face with a gradual incline towards the west. Follow this trail to the top and some great views. From the top, you can see Chandler Butte, Rattlesnake, Red, Candy, Badger, Jump-Off Joe, Mt. Adams, Benton City and the Horse Heaven wheat fields.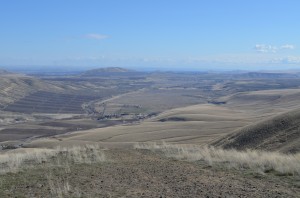 For this hike, I got to the top and then took the old road west for a couple of buttes.  You'll find cairns scattered as people celebrate their accomplishments of conquering the hike to the top.
From here, you can admire the views even more.  Then, you can head down the steep face back to the parking area.
I nice hike that is fairly challenging, about 4 miles round trip with a good workout.