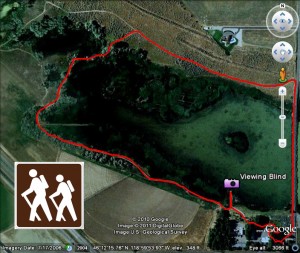 ---
■Mileage: 1 mile around the lake
■Difficulty: Easy
■Elevation: no elevation gain.  Approximate elevation: 300 feet
Warning: Standing and running water, use caution with children.
---
View
Untitled
in a larger map
---
Canada Geese and McNary Wildlife Refuge blog post

---
To get to the McNary National Wildlife Refuge you turn off Highway 12 onto Humorist Road just outside of Burbank.  Take I-182 from the Tri-Cities like your headed for Walla Walla.  This turns into Highway 12.  As you cross the Snake River Bridge, you'll pass Burbank.  Turn left (north) at the second light after the bridge (East Humorist Road).  Make another quick left on Lake Road and go about a quarter mile to the main offices of the refuge parking lot.
---
This is a great place for birdwatching as dozens of migratory birds make the refuge a stopover on their journeys. The prime birdwatching times are fall to spring but you can get great waterfowl glimpses year round. There are displays and even a visitor's center that is open the second Saturday of each month for an in-depth experience.
The hike is a real treat. Follow the path between the buildings and Burbank Slough and you'll find a small out-building with trap doors and hidden windows for great views of unsuspecting birds. Then, you can follow the path around the slough. Walk quietly and you'll get many more birdwatching opportunities. The trail goes all the way around the pond. You'll end up traveling back to the parking lot along the shoulder of Lake Road for a one-mile loop.

---
Here's a quote from the sign that greets you when you arrive:
You're entering a special place, set aside by the U.S. Fish and Wildlife Service in 1956 as mitigation for wildlife habitat lost when McNary Dam was built downstream. Packed into our 16,000 acres are numerous habitats offering food, space, and shelter for a wide variety of wildlife. We're an important stop on the Pacific Flyway, so thousands of migrating songbirds and waterfowl visit us each year. We're also home to many species of mammals, reptiles, amphibians and fish. We manage the refuge to mimic the natural seasonal cycle, so with each changing season, there's something new to discover.