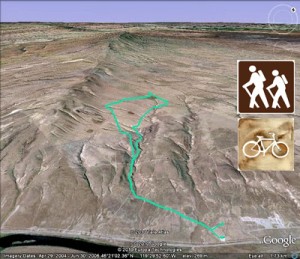 ---
Mileage: variable (see description)
Difficulty: Challenging to Moderate + depending on route.
Elevation: Variable, about a 300 foot ascent to the main area above the parking area.
Warning: Rattlesnakes have been spotted on this trail during warm, summer months.

View Rattlesnake Trailhead in a larger map
---
Rattlesnake Mountain Hike blog post
---
This hiking area is on the Rattlesnake Mountain Recreational Preserve.  To get to the trailhead, take I-82 to the Benton City exit 96.  Reset your trip meter and head north, through Benton City.  Stay on the main road which turns into Horn Road/Highway 225.  Just over 7 miles from I-82, you'll see a dirt parking area on the left side with a large Rattlesnake Preserve.  Park and head up the trail.
If you come from Richland, you can drive out Highway 240 like you're going to Vantage.  Turn left on Highway 225 toward Benton City.  Drive about 4 miles to the trailhead parking lot on the right, enjoy!
The Hike:
It makes a gradual climb up an old road bed, through a draw.  You'll go under some large power lines as you get to the flat.  You'll pass a wildlife rain-gathering watering trough on your right.  As you get up on the flat, there are several trails to take.  As you head west at the base of Rattlesnake Mountain, you can stop and look back at the Tri-Cities.  You can also see what some people call Rattlesnake Mountain and the "Rattlers", smaller mountains strung out in a line: Candy Mountain, Red Mountain, Badger Mountain, Thompson Hill.  A pretty sight to see.  As you hike through the desert grass, you can go between a couple of scattered outcroppings of trees.  You can also go a ways up Rattlesnake Mountain until you run into a fence-line.  My hikes have ranged from 6 to 13 miles round-trip and there's plenty more terrain to cover.  There is also a rugged, rocky canyon you can traverse as you head into or out of the preserve.