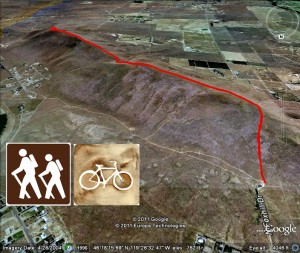 ---
One-way mileage: 2.1 miles (one-way time at moderate speed: 40 minutes)
Difficulty: Difficult
Elevation: Start 718 feet, Summit: 1394 feet, Total Ascent 1161 feet.
Warning: Rattlesnakes have been spotted on this trail during warm, summer months.
---

View Red Mountain Trailhead in a larger map
---
Red Mountain Experience blog post
---
To reach the Red Mountain Trailhead for this hike, take Van Geisen heading west out of West Richland.  Turn right on Ruppert Road.  Go about 3.9 miles, turn left on N. Foxhill Drive.  You can park at the end of the pavement or head up the dirt road and park at the water tower and hit the trail!
---
This is a nice hike on Red Mountain.  It stretches to over 4 miles roundtrip so plan at least a couple hours unless you're moving pretty fast.  The first quarter mile is the toughest as the old jeep trail goes straight up the west end of the mountain to the ridge top.
On the ridge top, you'll be rewarded with a great view of Mount Adams, the tip of Mount Rainier and a look west  to Benton City and the Lower Yakima Valley.  The trail follows the ridge from here to the summit on the east end of Red Mountain.  There are small ascents and descents as you follow the trail.  Looking out across the Columbia Basin, you'll spot familiar landmarks like I-82, the Hanford site, Rattlesnake, Badger and Candy mountains and more.  If the weather is cool, you'll see a large plume to the north from the Columbia Generating Station nuclear power plant run by Energy Northwest.  View East from Red MountainThe summit of Red Mountain is on the east end of this ridge.  There an array of communications towers stand.  Looking over the south side, you'll see the Col Solare Winery.
This is a great hike, it took me about 40 minutes one-way but a 2-hour round-trip is probably more reasonable.  Enjoy the panoramic view in the video below.
---