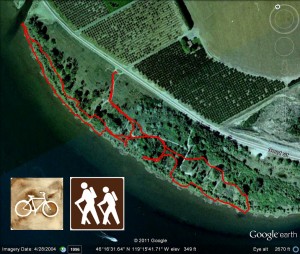 ---
Mileage: ~2 miles round-trip, variable
■Difficulty: Easy
■Elevation: no elevation gain
Warning: Standing and running water, use caution.
---
 Directions: From I-182, take the Road 100 exit in Pasco and head north to Harris Road (across from the Sleep Inn Hotel).  Turn west on Harris Road and follow the road for approximately 2.3 miles (this road turns into Court Street).  Stop and park at the little dirt pullout area with the sign marked "Richland Bend Habitat Management Unit".
---
View
Richland Bend Habitat Management Unit
in a larger map
---
---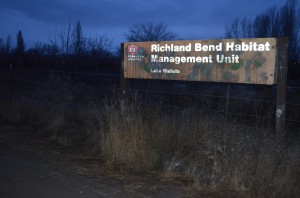 This is an easy hike that allows you to walk along the primitive shoreline of the Columbia River in Franklin County, directly across the river from Howard Amon Park and downtown Richland.  This is a relatively unknown hiking location but it appears to be used mostly by fishermen and paintballers.  This is really a nice place to take a leisurely walk and enjoy the outdoors.
There is no specific trail but you can wander pathways through the underbrush and make your way to the river bank.  Wildlife is plentiful with large nests in trees hosting an abundant bird population.  You may also see deer and other critters who enjoy the land and water life.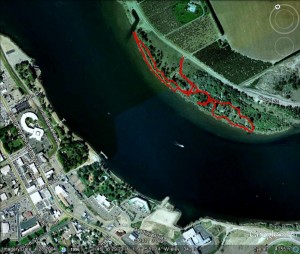 This hike would make for a fun family adventure outing, just keep track of the kids as the river is close and could pose a hazard.  I can just imagine boys having fun rustling through the underbrush and finding abandoned fishing lures along the bank (I found two when I was there).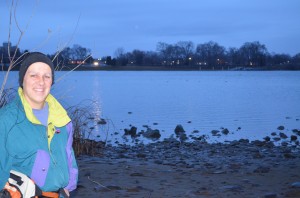 I also imagine this as a great walk away from the hustle and bustle with a chance to relax, ponder and meditate as I saw no other hikers when I was there.