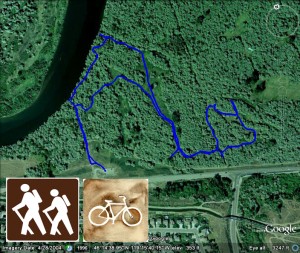 ---
One-way mileage: Variable, Plenty of meandering trails
Difficulty: Easy
Elevation: Flat, no elevation gain 
---
View
Yakima River Delta
in a larger map
---
Frosty Yakima River Delta blog post


---
Directions to trailhead:
To get to the Yakima River Delta trailhead, take the Steptoe exit off Highway 240 in Richland. Head east on Columbia Park Trail 1 mile to a grael parking area on the north side of the road. Alternately, take the Queensgate Exit off I-182. Head east and turn left on Columbia Park Trail. Go almost 2 miles to the gravel parking area on the north side of the road.
This is a nice hike/walk that is not as popular as many of the other walks around the Tri-Cities area. That's unfortunate because it is right outside the backdoor of many Richland and west Kennewick residents and it is a beautiful wetland area that is full of wildlife. From the parking area, you can head north, stay to the path to the left and in about 100 yards you'll be at a beautiful vantage point looking over a wide, slow moving section of the Yakima River. The trail follows the river to the right, under canopies of trees and around green, moss-covered trunks to a canal that hampers any further east travel. You can stay pretty well oriented in this area as you can see from the above Google Earth image from a GPS tracking I made. There are many trails and old roads criss-crossing the Yakima River Delta area. Expect to see plenty of wildlife here. I spotted rabbits, otters, ducks, great blue heron and lots of deer tracks. A great hike that is less publicized but still enjoyable with plenty of sights to see.