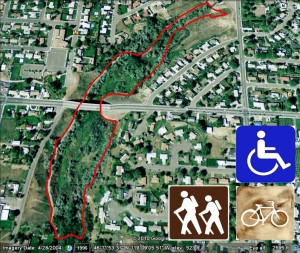 ---
Mileage: 1.2 Mile loop
Difficulty: Easy
Elevation: 370 feet above sea level, flat terrain
Warning: Running and standing water in Zintel Canyon, watch children closely.

---

View Zintel Canyon Trailhead in a larger map
---
Winter in Zintel Canyon blog post
---
The trailhead for this in-town hike is at the corner of 7th and Vancouver in a residential area of Kennewick. To get there, head south on Highway 395 from Highway 240 or travel north on Highway 395 from Interstate 82. Follow Highway 395 to 7th and head east to Vancouver Street and you're there.You can park in a small, off-street parking lot.
This is a remarkable trail, especially given it is in the middle of Kennewick in a densely populated neighborhood.  This also brings its drawbacks as the area is frequented by those who have a lack of respect for the beauty that is right around us and it shows with some litter and markings along the trail.
Even with this minor distraction, this is a wonderful trail that winds through a wetland area that is home to waterfowl and other small animals, rodents and wildlife.
The trailhead is home to a nice playground area.  From there you head southwest, either on the semi-primitive dirt trail or on the paved trail.  The dirt trail winds along the east side of the canyon, through overhanging trees that create a beautiful canopy.  This is a very easy hike with no noticeable elevation gain.  The trail winds past standing water and running water then under the 10th street bridge.  At about the .6 mile point, you can cross the creek to the west side trail, which is paved.  This is a nice trail which is paved all the way back to the trailhead.  The pavement provides nice access for those who are less mobile (wheelchairs, canes, walkers).  The paved trail loops around back under the bridge and back to the trailhead.