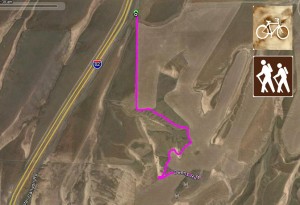 ---
Round-Trip mileage: 4.6 miles
Difficulty: Moderate
Elevation: Start 1312 feet, Summit: 2038 feet, Total Ascent 726 feet.
---

View Johnson Butte Trailhead in a larger map
---
Trailhead Directions:
From the Kennewick, go south on Interstate 82 toward Oregon. Take the Locust Grove (highway 397) exit. Go east, under the freeway to the siding road that runs along the freeway, Bofer Canyon Road, turn right (south) on Bofer Canyon Road. Go about 1.9 miles, past some tall grain silos to Owens Road on the left, park there and start hiking!
---
Hiking with Butterflies blog post about hike on Johnson Butte
This is a wonderful hike up an access road through rolling wheat fields just south of Kennewick. Right before the turnoff where you can park is an old structure that many people might recognize. It looks like it is no longer in use but I'm not sure what exactly it was used for. If you have any ideas, leave a comment below!
There is no trail but this hike actually follows a gravel road that runs for a straight, uphill stretch for about a mile. It skirts a dry-land wheat field. Depending on the time of year, you'll see golden grain waving in the wind, rolling green wheat fields, golden stubble after harvest or patterned rich, brown soil.
It is a special kind of beauty that you see on this unique hike which borders a few different wheat fields and some shrub-steppe desert vegetation.The hike winds its way to the top of Johnson Butte. There are three, large communications towers on the top.
The communication towers include KEPR-TV. KEPR is the only one of the three major network stations on Johnson Butte. The others are located on top of Jump-off Joe.
Great Vistas
The view from the top of Johnson Butte is beautiful (see the panorama video below).
---
Johnson Butte Panorama from Paul Shoemaker on Vimeo.
---
It looks to the south into Oregon, to the west is a great view of Mount Adams, the Blue Mountains are to the East and the
White Bluffs of the Hanford Reach area
are to the north. On a clear day, you may even catch a glimpse of Mount Rainier and Mount Hood. This is a great hike during the warmer season, especially if you're averse to snakes. Because it is a gravel road all the way to the top, you can walk right down the middle and see any snakes that might be in the area, long before they would pose any danger.