I'm tired of people who IGNORE the rules and ruin the Badger Mountain hiking experience for others!  Dogs are to be on leashes and owners are to clean up after their animals!  If you want your animal to run free, take them to an area where this activity is appropriate.  See Richland Dog Code Here.  See info here on a park MADE for unleashed dogs.
The other day, I was riding my bicycle up the Sagebrush Trail (bikes are only allowed on the Sagebrush and Skyline Trails), when I came across a woman who had her little dog (looked like a chihuahua).  The dog was not on a leash and started barking at my feet, following me up the trail, away from her owner.  I was expecting to be bitten at any moment as the little yapper just kept barking and following right beside me as I rode my bike up the hill.  I figured that I would  be okay as I got further from the owner but the dog just kept at it.  Finally, a ways up the trail, the dog backed off.  I was getting rather frustrated and held myself at bay as I considered giving the dog a good, swift kick.  I continued up the trail, got to the top and snapped a few nice pictures.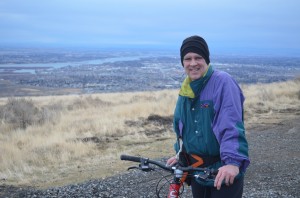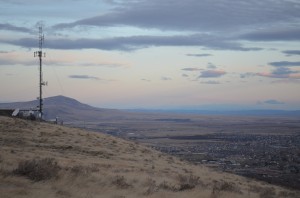 It was a great ride as I really got my heart pumping (having the dog nipping at my feet probably helped increase the heart rate).  Fortunately, I didn't get bit.  The problem is, there are many people who are terrified of dogs and knowing there are unleashed canines on the trail will keep them away from hiking.  The rules are in place for a reason.
Just the other day I was disgusted to see doggy droppings right on the trail, another example of people ruining this experience for others.
If you are going to bring your dog on the trail, please follow the rules, they are clearly posted.  If you don't want to leash your dogs, keep them home, find some private property that allows unleashed dogs or go to the dog park at Badger Mountain Community Park.  There are places for unleashed dogs, Badger Mountain is not one of them.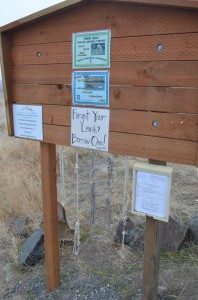 There are now leashes to borrow at Trailhead Park so there is no excuse to not have your dog leashed.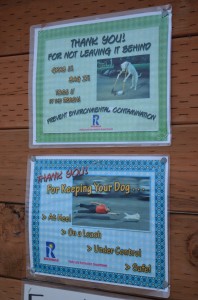 The rules are clearly outlined as well so please be considerate of others and curb your dog!