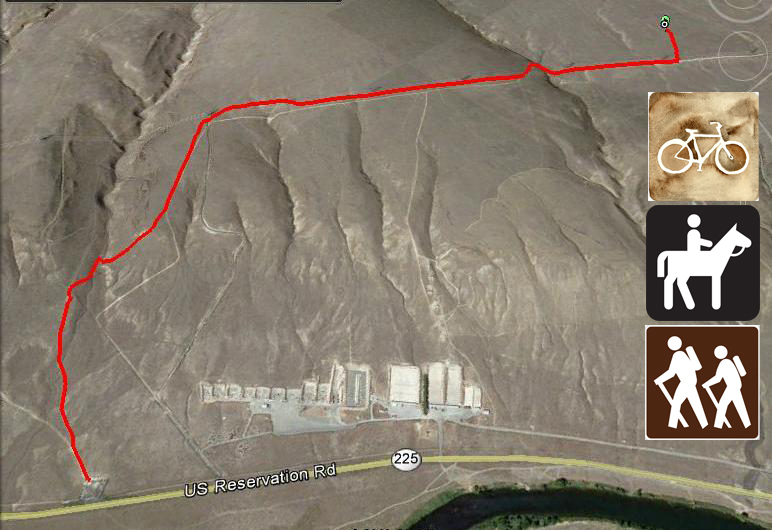 ---
Mileage: 4.1 miles round-trip
Difficulty: Moderate
Elevation: Variable, about a 300 foot ascent to the main area above the parking lot.
Warning: Rattlesnakes have been spotted on this trail during warm, summer months.  Hike borders shooting range, obey all signage to stay clear of closed areas.
You will need an access pass for the parking area.
---

View Rattlesnake Trailhead in a larger map
---
Directions to Trailhead:
This hiking area is on the Rattlesnake Mountain Recreational Preserve.  To get to the trailhead, take I-82 to the Benton City exit 96.  Reset your trip meter and head north, through Benton City.  Stay on the main road which turns into Horn Road/Highway 225.  Just over 7 miles from I-82, you'll see a dirt parking area on the left side with a large Rattlesnake Preserve sign.  Park and head up the trail.
If you come from Richland, you can drive out Highway 240 like you're going to Vantage.  Turn left on Highway 225 toward Benton City.  Drive about 4 miles to the trailhead parking lot on the right, enjoy!
---
Click here for a blog post about one of my hikes on this trail
---
This is a great hike to get some great views of some remnants of the ice-age floods that helped shape the geography of the Columbia Basin.
My thanks to Bruce Bjornstad who wrote the book: On the Trail of the Ice Age Floods; A Geological Field Guide to the Mid-Columbia Basin.  I got directions to this geological site and much of the information in this page from his excellent book!
This hike starts from the parking area along highway 225 near Benton City (see directions to trailhead above.  Take the trail west and take the right hand fork a short way up the trail (see Google map image above).  Follow trail until you come to the fence bordering the Rattlesnake Shooting Range.  If you stay on the trail to the left, it will go up the canyon seen below and fizzle out.
Instead, follow the fence line on right (no official trail) up the steep hill and keep following the fence until you come to a gravel road under the large power lines (count this power line tower as #1).  Follow the road that follows the power lines, it winds a little through a gully.  Go to the 6th power line tower and look to the left (west) and you'll see one of the largest erratics (a displaced, non-indigenous rock) yet identified in our area.
Coordinates for this giant erratic: N 46.21872 W 119.28511
Geologist J. Harlen Bretz was the first to present the theory of cataclysmic floods that helped shape the  landscape of eastern Washington into what are known as the Channeled Scablands.  Bretz presented the theory in the 1920's to much skepticism.  Since then, Bretz and other geologists like Bruce Bjornstad have done research which gives this theory even more credibility.
Bretz and other modern geologists believe The Ice Age Floods occurred several times up to about 15,000 years ago.  One thought is that a giant ice dam held back massive Lake Missoula that covered much of western Montana.  When that dam burst (one of several similar events), the wall of water scoured through eastern Washington eroding weak soil and rock and leaving behind a patchwork of geologic features.
The three main Ice Age Flood features you can see on this hike are:
Erratics
Bergmounds
Lake Lewis Isles
Erratics are rocks ranging in size up to the giant that is the focus of this hike,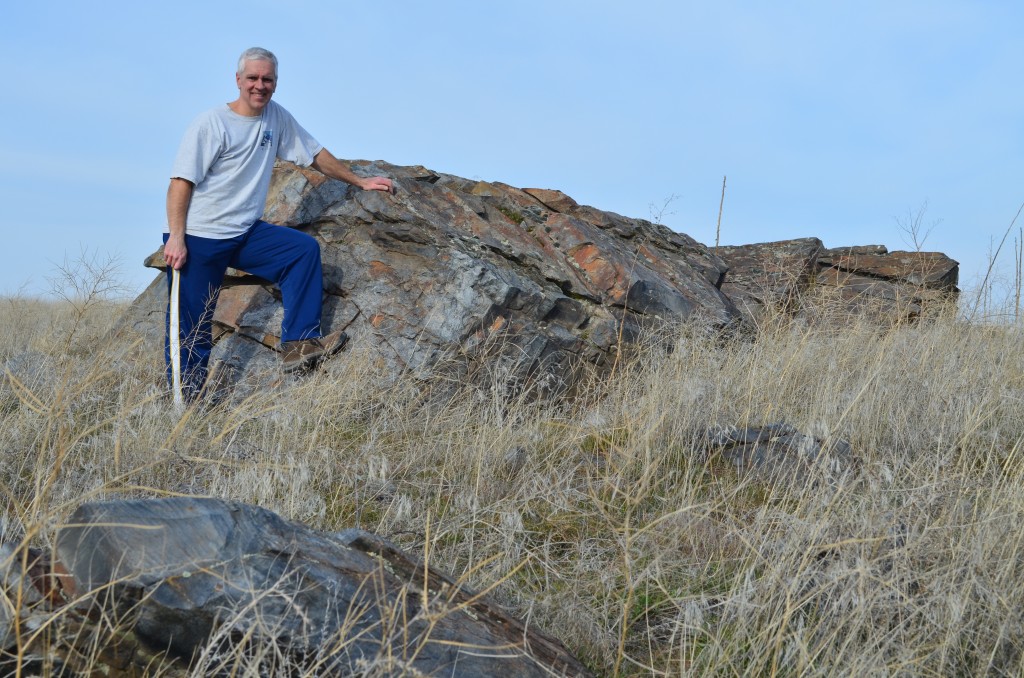 this VW Bug sized boulder of banded argillite.  Erratics are non-native rocks that were rafted here in the ice flows.  As the ice melted and water receded, the rocks that came from as far away as British Columbia and Montana were left behind.  Dark basalt is the only native rock in our area so it's pretty easy to pick out the rocks that were brought here 15,000 or more years ago.
Bergmounds  are piles of rock and debris left behind by icebergs that came to rest in this area and melted.  There are bergmounds all over on this hike, just watch for little bumps 20 feet across or even a bigger.
The Lake Lewis Isles are the third main Ice Age Flood feature you can see on this hike.  As you climb in elevation, you can look east toward the Tri-Cities and see three mountains that poked out as islands during one of the floods that covered our area in what is known as Lake Lewis.  The water backed up behind Wallula gap to a  height of 1200 feet, leaving the tops of Badger, Candy and Red Mountains and Goose Hill above the water.
Another fun aspect of this hike is the Geocache you might find at the large erratic.  Originally placed by Bruce Bjornstad, it has a log book of visitors dating back to 2004 that is fun to look through and you can do some trinket trading if you bring something to put in the box.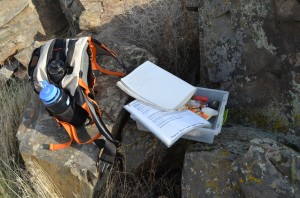 This is a great hike as it helps you learn some history of our area's geology.  When I first found the big erratic, I took a circuitous route that led me past many other erratics.
Coordinates for this erratic:  N 46.21530 W 119.29000
I also ran across a group of deer that followed me and kept an eye on me.  There are also coyotes and plenty of bird life as well.
Watch for a burst of color in the spring with wildflowers that bloom throughout the spring and into the summer.  Make sure you bring water as there is no water source on the Rattlesnake Preserve.