Don't let the snow and cold weather keep you off the trails
There really are only two reasons to stay shacked up at home when there's snow on the trails.  One is the cold, and two is slipping and sliding and falling.  Well, it is nice because you can overcome both of these barriers.  First, bundle up.  As you can see in the above picture, I've got some cold-weather gear on.  Three layers on top, plus a wind-resistant balaclava to protect my head.  Two layers on the bottom and insulated boots.  I know its cold outside but it feels really good to get out of the house and get the blood pumping.  As you're climbing, you get a great workout and you can push as hard as you want to get some cardio (or not, just getting moving is important).  You might find yourself peeling back some layers as you push for the summit, just keep them handy for the trip back down as you may get cool again.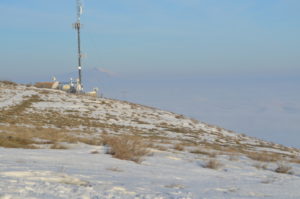 Snow, snow and more snow!
Yes, I know, it seems like there has been snow on the ground for months now.  I know its been the longest time with snow on the ground in this area in the five plus decades that I've been around.  All the more reason to get outside and enjoy it, don't let it hold you back.  You can end up putting on pounds from being sedentary (so much for that new year's resolution).  You can also have effects on your mental well-being from seasonal affective disorder (yes, SAD, its a real thing, you can Google it, I'll do a post on it soon!).
What if I slip?!
This is a real problem and a real concern.  In my work, I've had patients who have suffered serious injuries this winter season because of the snow and ice.  The good news is, there are devices which can help you hike safely, even with snow and ice.  First off, take it slow.  This isn't a race.  You will benefit from being outside and just walking (Even taking the Badger Flats trail is a good idea if you don't want to climb a mountain).  Check each of the hikes listed in click here for 40+ hikes and it will give you a difficulty rating and how much elevation you may have to conquer.  I took a picture of some of the traction devices I use to stay safe.
There are Yaktrax (one of my favorites), Sub-Zero (not impressed, from Wal-Mart they fell apart), and there are several other brands.
Then, there are full-on cramp-ons (the ones in the picture above are the ones I used to climb Mount Adams a couple years ago).  The important thing is to find one you like and use it.  Also a little tip, you might want to tie a shoelace over the top of your shoes or boots because some of these rubber-based traction devices can fall off (I speak from experience as one of my YakTrax is still buried under the snow somewhere on the Skyline Trail on Badger Mountain.  I hiked a lot this winter and I haven't fallen once, I think it is safe as long as you feel secure and comfortable.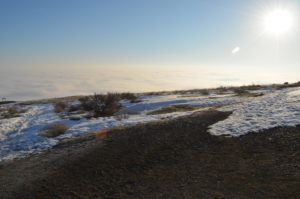 The pictures below are from my hikes over the months of January and February.  I like to keep active and the roads are not safe to ride my bicycle right now so I have been hiking a lot.  The dates of the hikes are listed.  One miserable experience where I learned a hard lesson was on February 7.  I was not happy with the traction devices I got from WalMart as they fell apart so I decided to go big and strap on my full-on mountain cramp-ons.  I didn't think about the extra traction which would slide my boots around on my feet and ended up with nasty blisters on both heels.  I knew I was developing blisters as I felt the classic "hot spots" pretty early in my hike but I was stubborn and pushed on.  After I was done and got home, I surveyed the damage, sorry for the graphic pictures but it was not pretty.  I'm still nursing my heels a week later but it was a lesson I won't likely soon forget!  It has been a wonderful couple of months of winter hikes and my body feels great (besides my heels).  I would encourage everyone to be more active and bundle up and get outdoors.  It will do your spirit good and your body will benefit as well.