Day 5
2.2 miles
1 hour hiking time
Ending point: Trailhead 4000′ elevation
We got up on our final day to another beautiful sunrise at Wood Lake.  Everyone worked fairly quickly to pack up and get going.  We got breakfast and took our last day with our morning scripture reading.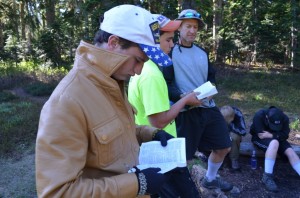 We did our daily scouring of the camp site for trash and items that may have been left behind and hit the trail just after 9 a.m.
We wandered along a trail on the opposite side from where we came in as it seemed like a more developed pathway.
We followed the trail as long as we could then we hit snow again.  We had to go cross-country as the trail was elusive but the GPS helped us head the right way.  We climbed some steep areas and slipped across the snowy patches.
We came across a trail that, according to the GPS, linked up with the trail we were looking for.  We followed it for a ways and then headed cross-country one more time, up the hill to find the main trail.
We paused for a short break then headed for the trailhead.  This was all downhill so it was a little tough on knees, feet and ankles.
We were blessed with a few more glimpses of Mount Adams as we descended and a cry of "Pahto" came from many of the scouts.
There were also several wildflowers we hadn't seen before on this hike.
We pushed forward at a pretty good pace and only ended up spending about an hour on the trail on this final day, covering 2.2 miles.  We covered just over 15 miles total, enough to help with the Backpacking Merit Badge.  We had a wonderful adventure.  In the words of one scout "That's the most fun I've had since Disneyland!"  Thank you Troop 202 for having me along on this enjoyable expedition.